It is said that Lord Shiva took the Avatar of Khandoba to kill demons Malla and Mani (in some accounts a giant called Manimalla). The two shivlingas appeared at Prempuri, the place where Khandoba killed the demons. Khandoba is believed to be a manifestation of the Rudra form of Hindu God Shiva. The Khandoba Jejuri History indicates that the deity had it origin in South India. Origin and story of Khandoba Jejuri is found in the 'Malhari Mahatmya.
The Khandoba mandir (temple) of Jejuri gad is on a hillock originally called Jayadri and now is known as Jejuri gad. It is said that God manifested himself as turmeric to a group of shepherds and hence turmeric is considered sacred at Jejuri temple. The devotees of Khandoba Jejuri visit the temple once in a month; we provide the best Mumbai to Jejuri and Pune to Jejuri taxi cabs with economical low fare rate. As a being one of the best travel agencies in Pune, we arrange Pune to Jejuri bus and taxi cabs travels tours, also group trip can be arranged by our 17 seater and 50 seater AC buses.
How to go to Jejuri from Pune
Check the Jejuri map at the bottom showing the Pune to Jejuri route.
Nearest Airport -Pune (49 kms), Mumbai (200 kms), Aurangabad (250 kms).
Nearest Railway Station – Jejuri.
Pune to Jejuri distance is 49 km by a car.
Mumbai to Jejuri distance by road is 190 km.
Jejuri is situated on Pune – Baramati road, you can take two routs, either Hadapsar to Saswad or Katraj – Kondhwa – Bopdev ghat – Saswad .
Saswad to Jejuri distance is 17 km, drive straight towards Baramati.
Places nearby Jejuri, Pune:
Pandeshwar mandir (temple)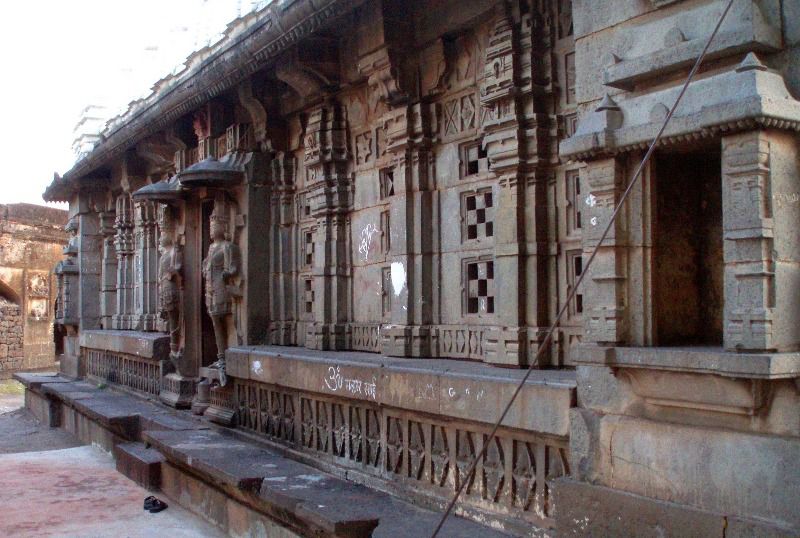 Pandeshwar Temple is located off Jejuri Morgaon road, around 50 kms from Pune. It is a medieval temple probably constructed around the 10-12th century, but later renovated in the 18th century as is apparent from the surrounding architecture. The temple is hidden amidst obscure villages located around the river Karha. As per the folklore, river Karha was formed from the water of Lord Brahma's 'kamandalu'named 'Kar' (Kamandalu is a small vessel to store water, generally associated with the Gods and also in use by the ascetics) . The river Karha takes its name from this 'Kar'. The villagers even insist that the temple itself was built by the Pandavas in a nights time. We can obviously take this with a pinch of salt, as this particular folklore is associated with virtually every ancient temple in Maharashtra. But the fact of the matter is, the temple is known after the Pandavas hence called Pandeshwar.
How to go to Pandeshwar temple Pune.
The road to the Pandeshwar mandir from the Jejuri Morgaon road is rather rough and passes through the green fields. There is also another road from Saswad. You need to drive towards Baramati Road, further to Jejuri take the Morgaon Road, not the NIRA Road. Once you pass the Railway Bridge, Take a turn to left towards the Damn Malharsagar. Further to the Damn, you get Pandeshwar. It is again 3-4 Kms from Jejuri. Hiring a taxi cab from car rental services provider is a better option to cover nearby places.
Prati Balaji, Ketkawale and Narayanpur are nice places to visit.
Kanifnath temple near Saswad Pune
A short car drive (Pune to Kanifnath distance is 30 kms) away from Pune city brings you to a temple on top of a small hillock. A short drive to Kanifnath temple near pune, you will find a good ghat hill section and something unique in this temple make this a very good option for 2-3 hr break from the city. Shri Kanifnath Maharaj was one of nine teachers in the Navnath Sampradaya, a Hindu Parampara who believe that Rishi Dattatreya, an incarnation of the Holy trinity Brahma, Vishnu and Shiva to be its first teacher. This temple is dedicated to him.
How to go to Kanifnath Temple from Pune:
There are two ways to go from Pune. Either go to Saswad and then to Kanifnath (slightly longer) or go through Kondhwa Road (beautiful ghat section in the middle). The map shows the second option which seems easier and the more scenic option. Drive from Kondhava to Bopdev ghat. The Bopdev ghat road goes to Saswad. After the ghat, you will see a big board for Kanifnath on the left and then it is a straight road to the top of the hill. One of the landmarks could be the plane-shaped water tank we saw on the way!. A better option would be to hire a Pune to Kanifnath temple taxi cabs from UCAB car rental service which has well known drivers.
Bhuleshwar Temple in Pune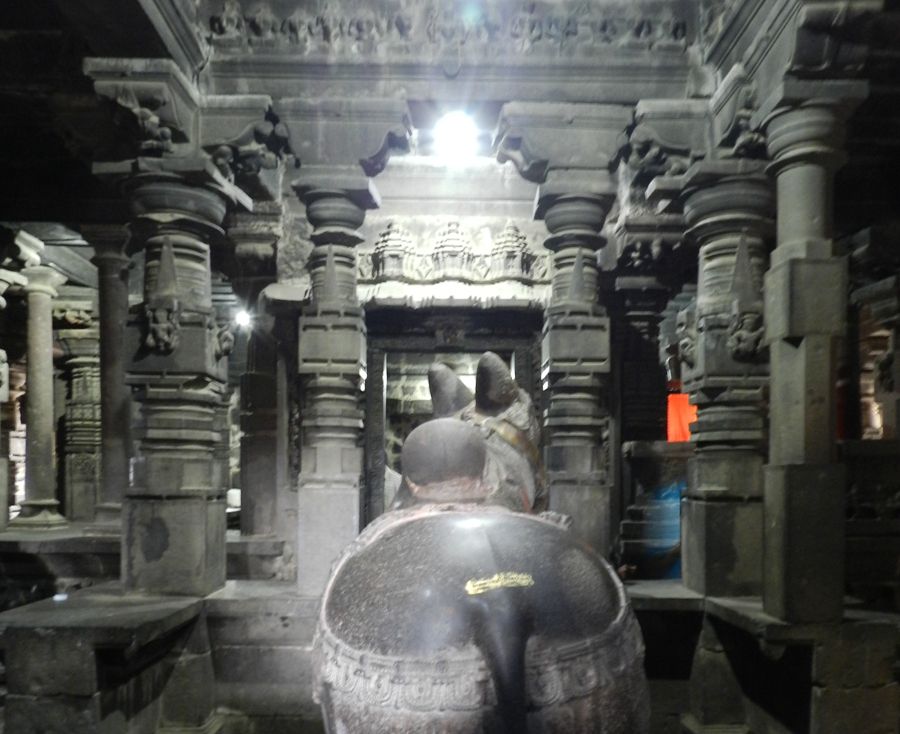 Bhuleshwar mandir is one of the major tourist attractions in Pune. Bhuleshwar temple Pune open timing is whole day. This holy shrine of Lord Shiva is mainly known for the beautiful art work on the pillars and the walls of the temple. Just about 50km from Pune, Bhuleshwar is a nice and cool place to visit. Bhuleshwar is famous for the temple of Lord Shiva. The temple is situated on a hill and was built during the era of Pandavas. Originally, it was a fort called as 'Mangalgadh'. The temple was built in the 13th century. There are beautiful carvings that dominate the walls from the beginning, enhancing its stone structure. Bhuleshwar has historical significance as it is the place where Devi Parvati danced for Lord Shiva and after they went to Kailas and got married. Thus this place is very important both historically and mythological. Even though this place has such importance, Bhuleshwar is one of the ignored places in Pune region. This place is crowded in Shrawan, Chaitra and Mahashivratri only.
How to go to Bhuleshwar temple
Bhuleshwar temple rout is easy to get there, it is situated near Malshiras village which is 3 k.m. away from Bhuleshwar mandir and now this village is known as Malshiras Bhuleshwar, Taluka Purandar, Dist. Pune. You can hire Pune to Bhuleshwar temple taxi cabs for hassle free jouney.
Moreshwar Ganpati Mandir Morgaon
Shri Moreshwar Mandir is a temple dedicated to the lord Ganesha, the elephant-headed god of wisdom. Pune to Moreshwar mandir (temple) Morgaon distance is 80 kms. The temple is the starting and ending point of a pilgrimage of Ashtavinayaka. Morgaon is the foremost centre of worship of the Ganapatya, which considers Ganesha as the Supreme Being. A Hindu legend relates the temple to killing of the demon Sindhu by Ganesha. The exact date of building of the temple is unknown, though the Ganapatya saint Morya Gosavi is known to be associated with it. The central icon of Ganesha is worshipped daily: at 7 am, 12 noon and at 8 pm.
The deity 'Moreshwara' inside the sanctum is very attractive. It is in sitting posture, facing east with the trunk turning left & semeared with vermillion mixed in oil. In its eyes & navel, diamonds are embedded. On its head is the hood of Nagaraja. On left & right are brass idols of Siddhi & Buddhi. In front of the idol are the Mooshaka (Rat) & Mayura (Peacock). The original idol of Moreshwar was small in size. As many layers of vermillion are applied on it, it looks bigger. The original small idol wasa made up of atoms of sand, iron & diamonds & it is behind the present statue. It was consecrated by God Brahma reconsecrated it twice. After few years pandavas came there for Pilgrimage. They enclosed the idol in tin sheet, so that nobody can try to destroy it.
How to go to Moreshwar temple Morgaon Pune.
Pune to Moreshwar temple Morgaon distance is 80 kms.
Mumbai to Moreshwar temple Morgaon distance is 217 kms.
Baramati to Moreshwar mandir Morgaon distance is 38 kms.
Jejuri to Moreshwar mandir distance is 18 kms.
We at UCAB Tours and Travels provide all types of car rental services in Pune and Mumbai with economical low fare rate. We have plenty of good maintained taxi cabs for your next tour. We also offer the Ashtavinayak tour packages for family and community tours. Customer can easily book an outstation taxi cab from Pune and Mumbai online or by call on 9923899633.
Tags:
Pune to Jejuri taxi, Mumbai to Jejuri taxi, Mumbai Pune cabs services, Pune Mumbai taxi services, outstation taxi cabs from Pune to Jejuri, taxi car rental in Pune, taxi cabs services in Pune, car rental service Pune, Jejuri taxi, Pune to Jejuri distance, Mumbai to Jejuri, Jejuri to Pune taxi cabs, Jejuri to Mumbai radio cab Pune, Jejuri temple, Jejuri Gad, Kanifnath, Bhuleshwar, Morgaon, Moreshwara, Pandeshwar, Khandoba, Pune to jejuri, Jejuri to Pune, Pune to jejuri distance, Pune to jejuri taxi cabs, Pune to jejuri taxi cabs fare, Pune to jejuri bus, Outstation taxi cabs to jejuri, Pune to jejuri cab service, ola cabs Pune to jejuri, Pune to jejuri travels, jejuri temple, jejuri kadepathar, Pune to jejuri car rental, car hire from Pune to jejuri, kanifnath temple Pune saswad, kanifnath temple near Pune, Pune to kanifnath temple, Pune to kanifnath distance, Pune to kanifnath temple taxi cabs, bhuleshwar temple Pune, bhuleshwar temple Pune timings, bhuleshwar temple Pune route, bhuleshwar mandir Pune, Pune to bhuleshwar route, Pune to bhuleshwar temple, Pune to bhuleshwar temple taxi cabs, pandeshwar temple, ancient pandeshwar temple, pandeshwar temple Pune, moreshwar temple, moreshwar temple at morgaon, Mumbai to moreshwar temple, Morgaon ganapati, morgaon ganpati to jejuri, morgaon ganpati from Pune, Pune to moreshwar temple distance, Pune to morgaon taxi cabs, Pune to Morgaon mandir taxi cabs, morgaon ashtavinayak, ashtavinayak pilgrimage tour.